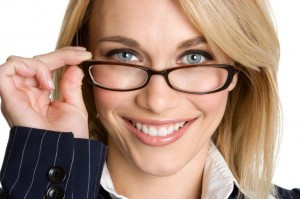 It's tough to find affordable prescription glasses, especially when you have a significantly corrective prescription. Some people, even those with moderate corrections, pay $500 or more for their glasses but the average person these days can't quite fit a figure like that into their budget. Finding affordable prescription glasses isn't impossible but it does require that you research and shop around.
You've undoubtedly heard about ordering your glasses online. In fact, a financial advisor with a nationally syndicated radio recommends one particular online eyeglass retailer and has purchased their product. It's fine to order eyeglasses online but remember that unless the company is located in your own country you may be frustrated if you have a problem with your order. The advantage of such virtual stores is that you can often afford more attractive frames than you could with a brick and mortar store plus extras such as tinting or progressive bifocals. A pair of glasses with those attributes might cost $400 if you buy from a national chain but less than $50 from an online supplier.
You can some great affordable prescription glasses online, particularly if you shop at a time when a virtual store is trying to get rid of a few frame models. Often you can get frames that have gone out of style for just a few dollars or even at no charge! These are usually attractive frames but happen to be last year's models. Most people won't notice your frames are not the latest fashion since very few people read optometry trade fashion publication.
You can also find affordable prescription glasses in conventional shops if you decide exactly what you want and ignore pressure to purchase pricey treatments and accessories. Another way to save money on glasses is to purchase a pair at a thrift store and use those frames, if you like them. You can save a bundle by providing your own frames.
Buying a pair of clip-on sunglasses at your local dollar store is a lot less expensive than buying the photochromic coating that darkens as the light strengthens. This and other coatings can easily amount to half the cost of your glasses!
Finding affordable prescription glasses is merely a matter of being determined, informed, creative, and cautious.