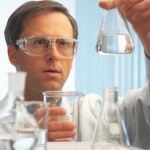 There are many professions that require the use of safety equipment and prescription safety glasses are just one of the many tools available these days to help. Safety glasses are important at work or at home to prevent eye damage and prescription safety glasses insure that you can clearly see what you're doing. If you can see clearly, you can do the job better and reduce the chances of an accident.
Unlike the goggle-type safety glasses most people wore years ago, the newer prescription safety glasses are lightweight and comfortable. Safety goggles were often very uncomfortable to wear over prescription glasses, causing wearers to sweat under the plastic frames or pushing eyewear into the face because of improper fit. How much better it is now to have safety glasses that are your own prescription!
It is very important to have safety glasses, especially if you work around chemicals, welding, or any workplace where foreign objects can damage your eyes. You only have two eyes and they are irreplaceable. It is so easy to damage these delicate organs and relatively inexpensive to protect them.
Prescription safety glasses come with many options. You can choose frames that are plastic, metal, semi-rimless, Bluetooth equipped, or lighted for easier working conditions. You can get single vision or bifocals and can even order progressive bifocals. Bifocals increase the price $25-$50 but can make your work a lot easier and safer. You can order lenses of plastic, polycarbonate, or glass; you can have them tinted for about $45. In fact, you can have all the options of your everyday glasses built into prescription safety glasses such as scratch coating, mirror coating, anti fog coating, and anti reflective coating.
Many employers will buy prescription safety glasses for their employees. Reducing the possibility of ocular accidents and injuries is a powerful incentive and returns their investment through savings in insurance and medical treatment. Some people, however, have to buy their own and may be interested in over the glass safety glasses. These fit over your prescription glasses and can cost from $10 to less than $50. They are a viable solution if prescription safety glasses don't quite fit into your budget right now.