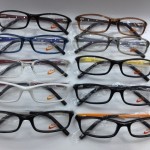 You can save a lot of money on eyeglasses by choosing cheap glasses frames. Glasses are more than just eyewear to help you see—these days they are a fashion statement just like the clothing you wear or the jewelry you choose. The problem is that they can be the most costly part of your glasses if you're not careful.
There are many reasons why frames are so expensive. Most people don't know that the frames and the extras like tinting is where optical companies realize most of their profits. Customers that opt for cheap glasses frames lower the profit margin considerably. That's why most national chains put so much advertising money in making the public think that designer frames will make them more attractive!
While it's true that some frames are more attractive than others, cheap glasses frames can look just as nice as designer frames that cost ten times as much. There are many frames that are so similar to designer frames that the only difference is the lack of the designer's name in a prominent place. You can find frames nearly identical to costly designer frames that look just as nice. Did you know that those pricey frames are not actually created by name brand designers but by the manufacturers that license that designer's name? The licensing fees are figured into the price of the frames and may be as much as ¾ their total price!
A good place to find cheap glasses frames is online but you'll probably have to visit an optometrist to have them adjusted so they are comfortable. Another great resource is your warehouse club. If you don't have a membership, the money you save on your glasses will make it well worth purchasing. You'll find that their inventory is just as extensive as the national chain stores but the prices are a fraction what you'd pay elsewhere.
When you're looking for cheap glasses frames, consider last year's models. They are often heavily discounted in order to make room for new stock and you can save up to 75% on many frames. And while you want to save money, beware of the cheapest frames that are made overseas; these frames are often made of inferior materials and meant for use in free second pairs during promotions. If you shop around, stick to quality construction, and don't insist on the latest designer fashions you can find a wide variety of cheap glasses frames that will look great on your face!